the program for the world masters regatta 2017 has been announced! Show programme
lake bled is waiting for you
Racing will start on Wednesday, 6th September 2017,noon. The venue and the course will be open for training from Monday, 4th September, onwards.
Important information
Entries and boat rental bookings will be possible from 15th January 2017.
Bled offers a large selection of five and four-star hotels, as well as more aff ordable hotels in other categories.
Numerous private rooms, youth hostels and camping facilities guarantee accommodation for every budget.
Most of the accommodation facilities are close to the Venue, a lot of them even within a walking distance. There is already a big demand for accommodation and with limited facilities we warmly recommend booking your stay as soon as possible with the Organizing Committee. Accommodation bookings can only be made through the Organizing Committee, so please contact us as soon as possible at noitadommocca.[antispam].@wrmr2017.com.
Opening ceremony
On Wednesday, 6th September 2017, 1 hour after the last race, there will be an Opening Ceremony held on the Bled Promenade in Bled town Centre. You will be able to taste traditional Slovenian food being part of festival 'The Taste of Bled'. There will be no admission fee, food and beverages will be on sale at special rates. Regarding any further information in relation to the Opening Ceremony please do not hesitate to write to.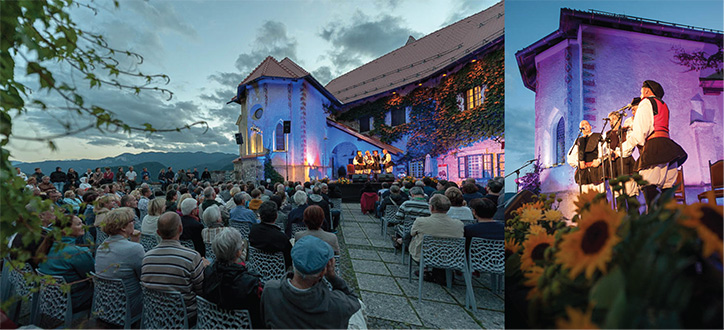 On Friday, 8th September 2017, you will be able to attend a special event at Bled Castle. Event will unwind on the top of the mysterious cliff over Lake Bled, where Bled Castle is located. you will be able to witness the true spirit of medieval years. Accompanied by medieval music, the noblemen and knights of Bled Castle will take you on a mysterious journey through the history. What is more, you will able to walk through the castle and its courtyards where with a wide range of medieval craftwork presented. Besides meeting knights in shining armors you, our precious guests, will be served some fi nger food and we surely did not forget about the welcome drink. An unforgetable experience is waiting for you. Do not hesitate and buy your ticket. First 300 tickets will be available at price 30 € while the regular price for this event is 35 €.
See you soon! One of the most beautiful rowing course is waiting for you. For any further questions, please do not hesitate to contact us.
Welcome to Bled, welcome to Slovenia!